About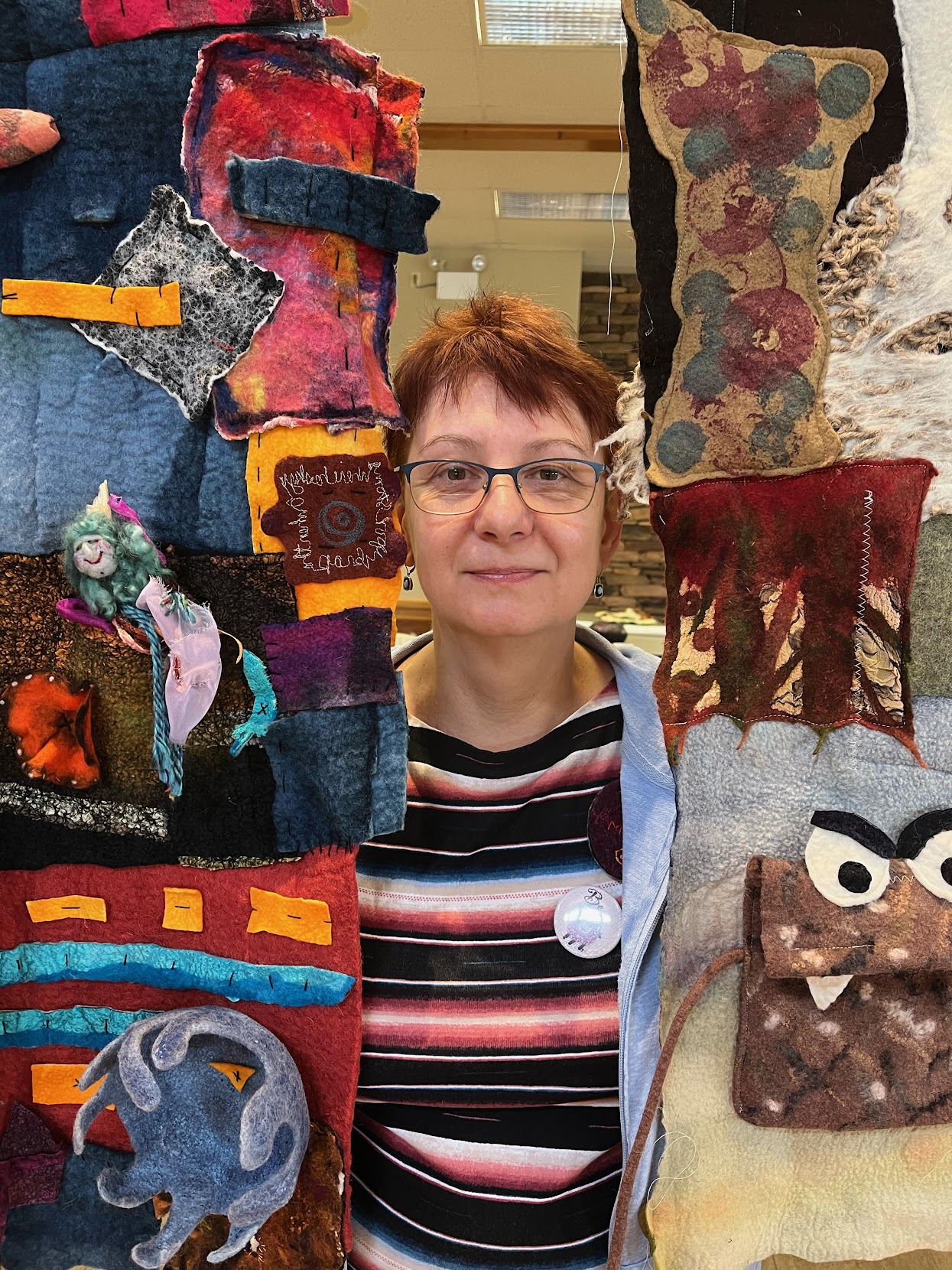 I am a Russian-American visual artist currently based in Boston, US. My primary interest belongs to felting. I work with wool, silk, and other fibers that can bond with wool during the felting process. Wool is an excellent natural fiber with a fantastic tactile feature. Wool gives me infinite possibilities to create garments, accessories, home décor, wool jewelry, figures, paintings, wall hangings, and 3D objects. I learned felting techniques through workshops and masterclasses from well-known felt artists from Russia, Europe, and North America.
Making jewelry with Swarovski crystals, Murano glass, and gemstones is another area of my creative journey. I specialize in Boho and Victorian-style jewelry.
Being a non-stop seeker of new horizons in creativity, I make art dolls.
I cooperate with art galleries in Massachusetts:
Member of the Northeast Feltmakers Guild (NEFG)
Member of International Feltmakers Association (IFA)
Member of Needham and Newton Art Associations
Member of Needham Open Studios (NOS)
Selected Exhibitions & Events
2023
From the Heart, juried, Mosesian Center for the Arts, Watertown, MA
Inspiration, jusged, Plymouth Center for the Arts, Plymouth, MA
James King Bonnar Show 2023, curated, Newton Art Association, Natick, MA
Awakenings, curated, Plymouth Center for the Arts, Plymouth, MA
Allen Center Spring Exhibition, judged, West Newton, MA
Spring Members Exhibit, judged, Needham Art Association, Wellesley, MA
Needham Open Studios Art Show, curated, Gorse Mill Studios, Needham, MA
Needham Open Studios Art Show, curated, Needham Free Library, Needham, MA
FEUTRE DE SCÈNE (Stage Felt) Exhibition, juried, European Felt Days, Felletin, France
Wild Spring Awakening, curated, Belmont Art Gallery, Belmont, MA
From the Ground Up: Fresh Farm, curated, LARAC Mountain Gallery, Glenn Falls, NY
2022
Art of Healing, Allen Center Spring Exhibition, judged, West Newton, MA
Needham Open Studios Art Show, curated, Gorse Mill Studios, Needham, MA
Spring Members Exhibit, judged, Needham Art Association, Needham, MA
Imagine, judged, Plymouth Center for the Arts, Plymouth, MA
Felt Stained Glass, curated, the Pearse Museum, Dublin, Ireland
New Members Art Show, judged, Newton art Association, Newton, MA
Reflections, judged, Plymouth Center for the Arts, Plymouth, MA
Beneath the Surface, juried, Center for Contemporary Art, Bedminster, NJ
Annual Awards Show, judged, Newton Art Association, Newton, MA
Abstract Art: Contemporary Approaches, juried, Mosesian Center for the Arts, Watertown, MA
Tradition: Reinvented, juried, Cambridge Art Association, Cambridge, MA
Fall Members Exhibit, judged, Needham Art Association, Needham, MA
Elements, judged, Plymouth Center for the Arts, Plymouth, MA
2021
James King Bonnar Show 2021, curated, Newton Art Association, Wedeman gallery, Auburndale, MA
Fall Members Exhibit, judged, Needham Art Association, Needham, MA
2020
Fiber Challenge 2020/2021, curated, Northeast Feltmakers Guild, online
2019
52th Annual Juried Art Show, Plymouth Center for the Arts, Plymouth, MA
Awards
First Place, Mosesian Center for the Arts, From the Heart, 2023
Honorable Mention, Needham Art Association, Spring Members Exhibit, 2023
Honorable Mention, Allen Center Spring Exhibition, Art of Healing, 2022
Honorable Mention, Plymouth Center for the Arts, Imagine, 2022
Third Place, Needham Art Association, Spring Members Exhibit, 2022
Honorable Mention, Newton Art Association, New Members Art Show, 2022
Honorable Mention, Plymouth Center for the Arts, Reflections, 2022
Second Place, Plymouth Center for the Arts, 52th Annual Juried Art Show, 2019
Etsy shops
E-mail
contact@feltigo.com